Thursday, January 19th @ 7pm
Dreams are a wonderful thing. Recently I've been kinda bummed that the really awesome ones seem to be ignored and really boring ones, like websites that don't do anything, get piles of money. So it's super inspiring to see something as fantastical as reviving a legendary indoor velodrome in a massive, gorgeous spot in the Bronx start to really happen. Tonight for simply braving some winter weather you can help make it real and have an awesome time. Even those culture snobs at the New York Times think so!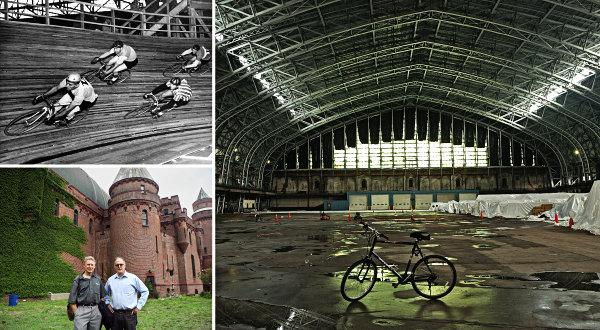 Mike Green, aka. BikeBlogNYC.com is the organizer and has this to say about it:
Except for a few feature films and commercial shoots, the Kingsbridge Armory has remained mostly empty for more than a decade, but is a very hot and much anticipated property in the South Bronx.

There are new developments in the works as interested parties are working on proposals which must be submitted by March 22nd. The field has become more wide open mainly impart to some local politicians and an agreement by the city council and the national Retail, Wholesale and Department Store Union, as explained in this recentNY Times article.

One of these proposals is to build an indoor cycling velodrome which is being spearheaded by Michael Green of the Century Road Club Association (CRCA)

This is a huge boast for competitive cycling and to help raise funding there will be a rollers event January 19th. More info here.